At year-end 2017, the office sector kept the slow but steady pace for which this expansion is notorious. The quarterly numbers were especially "lackluster" but "noteworthy," according to REIS' Q4 2017 Preliminary Office Trends report since "…the fourth quarter generally sees the highest completion and net absorption numbers in the year."
Nationally, new construction was 7 million SF in Q4 2017, (compared to 8.3 million SF in Q3 and 10.7 million in Q4 2016). Net absorption was "in line" with new construction in the quarter at 5.2 million SF, (compared to 5.3 million SF in Q3 and 12.9 million SF in Q4 2016). Office vacancy rate remained flat in the fourth quarter at 16.3%.
For the year, new construction totaled 37.6 million SF, just slightly above the 36.6 million SF that came online in 2016. Due, seemingly in most part, to low net absorption in Q4, net absorption for the year was 21 million SF, (down 8.1 million SF from 29.1 million SF in 2016). With only a slight uptick in construction and a drop in net absorption, vacancy increased 20 basis points year-over-year.
The less-than-stellar occupancy growth has resulted in subdued rent growth. Asking and effective rents increased 0.6% in the quarter – the highest quarterly growth rate in six quarters. For the year, rent growth was 1.8%. "This is the third straight quarter that saw a year-over-year effective rent growth rate below 2%." Although rent growth is positive, the "sluggish pace of growth" in this office expansion is most noticeable when looking at quarterly rent growth. (For more on this trend, read the Bull Realty blog post, Why This Office Expansion is Unique.)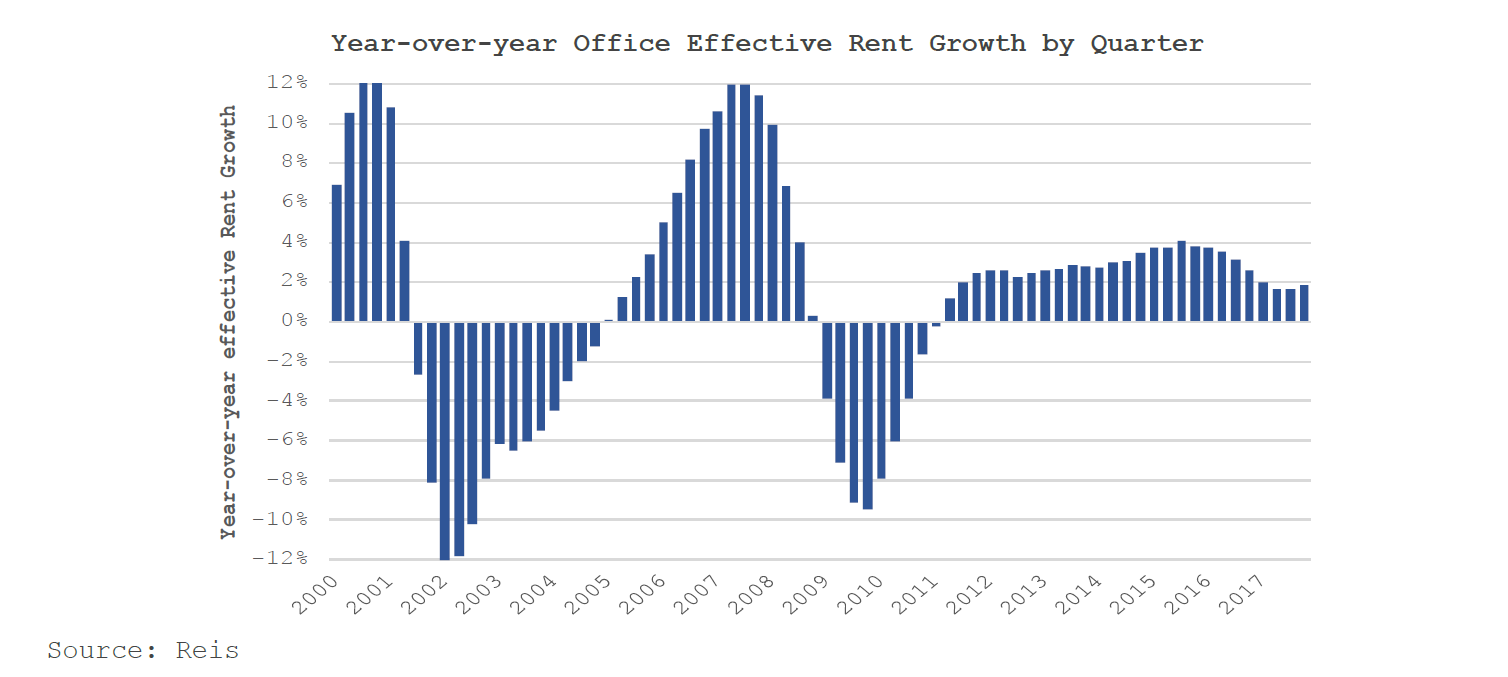 Recently on America's Commercial Real Estate Show, REIS economist Barbara Denham remarked that while job growth is better than past expansions, we haven't seen the corresponding office leasing that goes with that office employment because so many firms are densifying and squeezing more staff into smaller spaces. "Metro-based office employment growth for the year is up 1.9% (year-over-year through November), well above the overall occupancy growth rate of 0.5%," according to REIS. "This expansion has been tepid in terms of overall occupancy growth," said Denham.
The U.S. economy added 148,000 jobs in December, the 87th consecutive monthly gain, according to the U.S. Bureau of Labor Statistics (BLS). "The unemployment rate remained at 4.1% for the third straight month and was 60 basis points (bps) lower than December 2016's rate," reported Axiometrics.
ATLANTA
Atlanta has consistently appeared in the Top 5 annual job gains markets and is currently 4th with 56,000 jobs gained over the last 12 months.
Atlanta's annual asking and effective rent growth were each 3.4% for the office sector, according to REIS. In Q4, effective rent growth was up 90 basis points to an average effective rent of $19.69. Vacancy declined 10 basis points in Q4 to 18.2%, however was up 20 basis points year-over-year.
"Atlanta's economy is producing a lot of new jobs. As a result of its above-average recovery, Atlanta has about 300,000 more jobs at the beginning of 2018 than it did at the height of the last cycle (2007). And figures from the BLS show Atlanta remains out in front of other major metros in regards to its growth rate over the last several years," reported CoStar.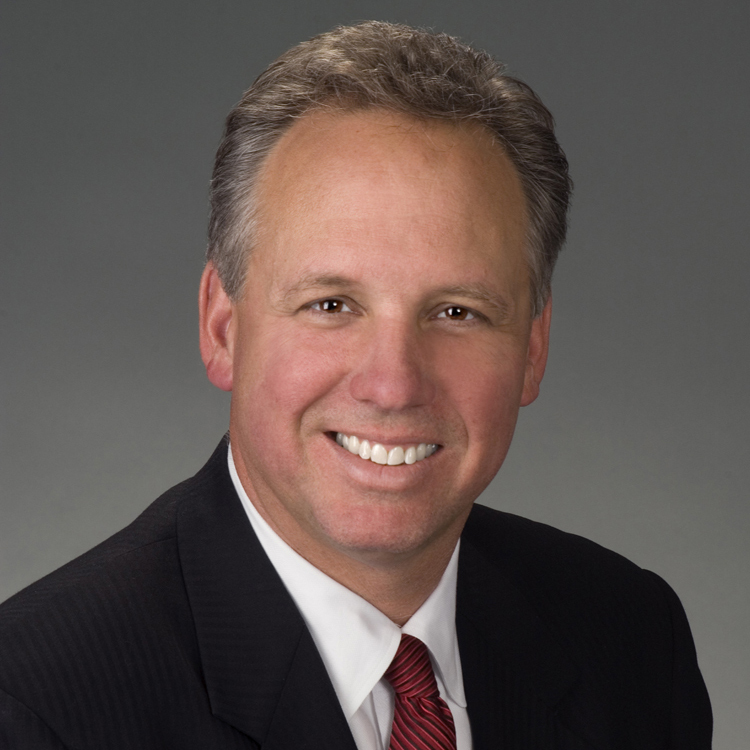 Overall, the forecast for office is positive, thanks to employment and rent growth and the impact of the recently passed Tax Cuts & Jobs Act. (A full review of the bill can be found on the Bull Realty blog.) The office sector potentially stands to benefit the most from the new law as "business may feel renewed confidence" with more profit, which could "foster more robust leasing activity," said REIS. The full impact most likely will remain to be seen until late 2018.
"We continue to see strong demand from foreign and domestic buyers for Atlanta area properties. The tax cuts will boost confidence for tenants and investors even further. Tepid new supply combined with the expected job growth paint a rosy picture for the Atlanta office market," said Michael Bull, CEO of Bull Realty.
In spite of the fact that this office expansion doesn't mirror past cycles, for reasons of its own, the sector is still maintaining a balance between supply and demand. Slow growth may be just what the doctor ordered.
Bull Realty Research, Inc.