This recovery is more of a marathon than a sprint, especially for the office sector, and every submarket seems to be moving at a different pace.
"Although slower and weaker than recoveries past, this recovery is also likely to be longer, presenting opportunities that would not normally present themselves during recoveries that were stronger but shorter," said Ryan Severino in REIS' Q1 2016 Preliminary Office Trends report.
On "The Commercial Real Estate Show," Mark Grinis, Partner with Ernst & Young LLP said, "This real estate cycle is different because our business cycle is different. We've been in a slow growth environment." 215,000 new jobs were added in March 2016, according to the Bureau of Labor Statistics. The unemployment rate remains 5.0%.
The national vacancy rate for office fell 10 basis points to 16.2% in Q1. Net absorption was 10.2 million SF during Q1, which is "on par" with the 10.2 million SF absorbed in Q1 2014, which was the highest level for quarterly net absorption since the third quarter of 2007.
There were 6.1 million SF of new construction in Q1. Asking and effective rents both grew by 0.9% during the quarter and 3.0% and 3.2% respectively year-over-year.
There is still a lack of new supply in the office market although spec construction has been increasing over time. "Further declines in vacancy rates and increases in rent growth will only further that process," said Severino. REIS expects 2016 will be the best calendar year for net absorption and construction since before the recession.
Office is referred to as the "barometer of change" in the 2016 Emerging Trends in Real Estate, an annual publication co-authored by Price Waterhouse Coopers (PwC) and the Urban Land Institute. It is no secret that the square feet per employee is shrinking and trends like co-working space can't be ignored.
The size of the companies responsible for the most job growth is also smaller. Recently, companies with 50 employees or less have created the most jobs. Specifically, companies with 1-49 employees were responsible for 46.5% of job growth since 2013.
The one thing that isn't shrinking is the demand for office. But the demand for the type of space has changed. "About 70 percent of offices now have the most obvious hallmarks of open plans -- low or no partitions, according to the International Facility Management Association," reported The National Real Estate Investor. The 2016 Emerging Trends in Real Estate report echoed this fact, saying: "Redesign of office space to do away with walls and cubicles—and the rethinking of 'work' that goes along with it—remain prominent in the minds of our interviewees."
REIS expects that the national vacancy rate will fall another 30-40 basis points this year, asking and effective rent growth will continue to accelerate by 3.6% and 3.8% year-over-year and "the relationship between supply and demand should continue to remain favorable through the balance of 2016." In addition, "future office growth will be concentrated in secondary and tertiary markets," reported The National Real Estate Investor.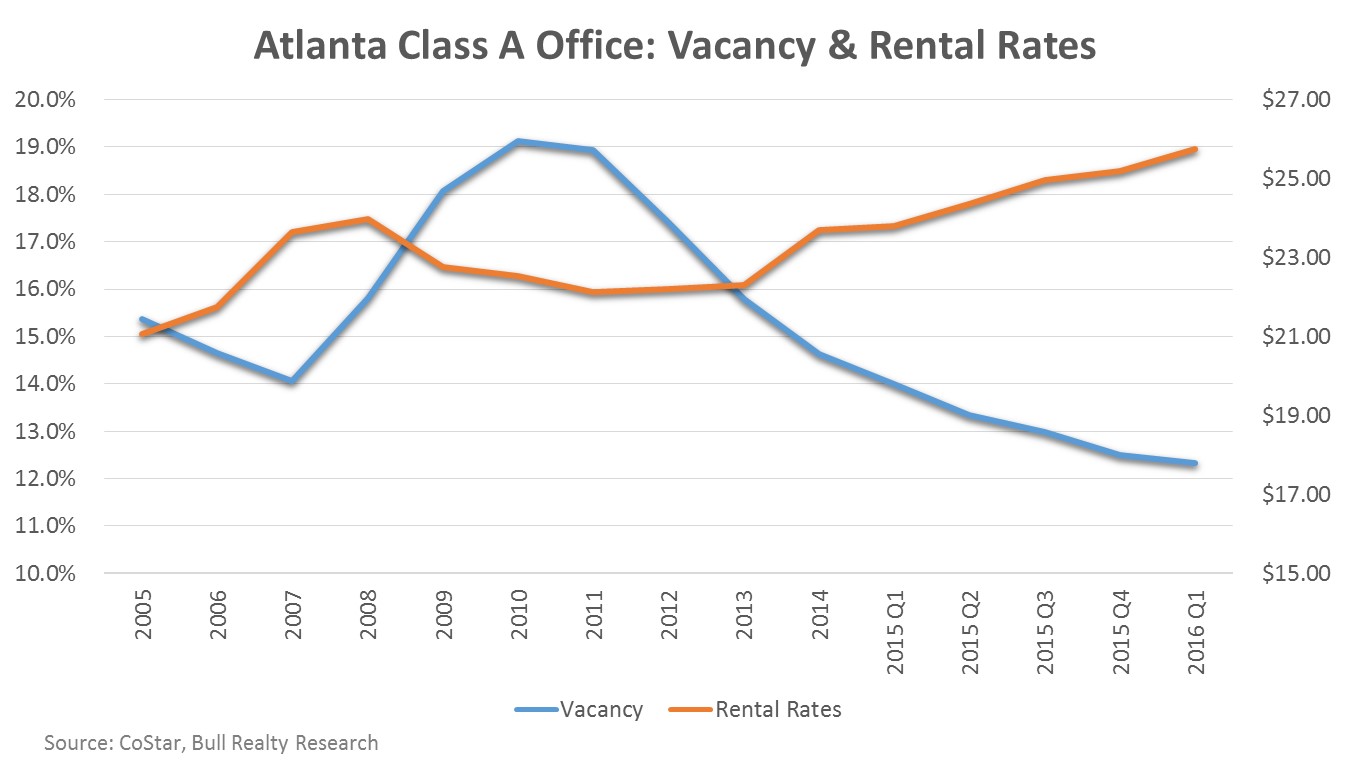 For the Atlanta office market in general, Q1 vacancy was unchanged from Q4 at 19.4%, but reflects a 40 basis point decrease year-over year, reported REIS. Asking and effective rents grew 3.4% and 3.5% respectively year-over-year. In Atlanta, average effective rent for office is $18.36/SF.
However, this doesn't paint the whole picture. Popular submarkets like Buckhead, Midtown and the Central Perimeter have seen rental rates for Class A and B properties continue to skyrocket. Rental rates for Class A properties in Atlanta averaged $25.75 in Q1 2016, an 8% increase since Q1 of 2015. In Buckhead, the vacancy is 11.9% and quoted rental rates for Class A properties are $32.97. This stands in stark contrast to year-end 2014 when vacancy was 14.2% and average quoted rental rates were $29.28 for Class A properties in Buckhead.
Clearly, as indicated in Atlanta, there are hotter markets and submarkets that are outperforming others. Whether your property is the tortoise or the hare, the good news is that the office market is recovering and the race isn't over.
Bull Realty, Inc., Research