Who would have thought that within 24 months, what was once one of the most valuable sectors in commercial real estate would become one of the most vulnerable? E-commerce has eaten into the market share of nearly every brick-and-mortar retailer, and national chains like JCPenney, Toys R Us, Sears, and Men's Wearhouse were all recently added to the seemingly ever-growing list of retailers to fold. And, while the pandemic was the nail in the coffin for many retail brands, grocery-tenanted properties have emerged as the new front runner for the sector.
Essential and recession resistant proof businesses are of greater value to investors now more than ever. And a major value proposition of grocers is that, unlike traditional retailers, they can drive business at brick-and-mortar store locations by investing in supply chains and leveraging technology through omni-channel marketing and sales strategies. With factors like a high barrier to entry, the perishable nature of the goods sold, and the importance consumers place on brand recognition and store location, grocers have remained a valuable and successful piece of the retail sector. As a result, grocery-tenanted properties have led the retail market in transaction volume, cap rate compression, and outlook.
Market Activity
Grocery store sales performance over the last three years corresponds to record transaction volume and compressing cap rates over the same period. Cap rates bottomed-out in mid-2022 as a result of the increasing federal funds rate target.
Grocery store sales have been steadily increasing over the past few years. In 2019, grocery sales in the United States were $695 billion (adjusted for seasonal, holiday, and trading-day differences). In 2020, adjusted grocery sales were $757 billion – a 9% year-over-year increase. In 2021, that number increased to $782 billion, a 3.3% year-over-year increase. Through three quarters of 2022, grocery sales have exceeded $624 billion and are pacing over $830 billion in sales on the year – an 8.4% year-over-year increase in what seems to be an upcoming record year for grocery store sales. From 2019 through 2022, adjusted grocery sales have increased a total of over 19%.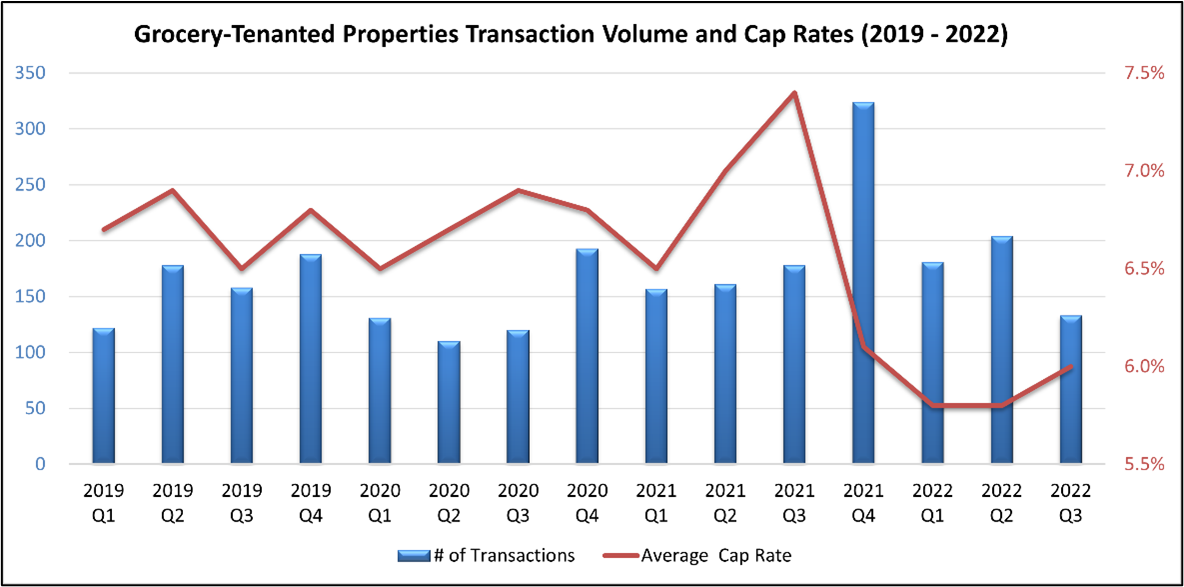 According to CoStar, there were 596 supermarket transactions in the U.S. in 2020 for a total sales volume of $2.9 billion and an average cap rate of 6.7%. That is down from 688 transactions the year before and a decrease of $800 million in sales volume for a total of $3.6 billion. Average cap rates were constant from 2019 to 2020 at 6.7%. In 2021, there were 862 supermarket transactions in the U.S. – an increase of 266 transactions year-over-year – for a total sales volume of $3.9 billion. These properties traded at an average 6.8% cap rate. Through the first three quarters of 2022, there have been 564 supermarket transactions for a total sales volume of $3.5 billion and an average cap rate of 5.8%. Of the 2022 transactions in the first three quarters of 2022, 330 were single tenant properties that traded at an average cap rate of 5.4%, and 234 were multi-tenant or grocery anchored properties that traded at an average cap rate of 6.6%.
While 2022 will likely be a record transaction year for grocery-tenanted properties, average cap rates at the end of the third quarter of 2022 have increased 22 basis points from 5.76% at the beginning of the year to 5.98%. All indications point to cap rates continuing to increase into 2023.
Aggressive Expansion Plans
Many of the nation's largest grocers are expanding into new markets and growing their physical presence. The grocer with the most aggressive expansion plan is Aldi. Aldi is approaching the end of its 5-year plan to invest $5 billion into opening new stores and remodeling outdated ones. Aldi opened 88 new stores in 2021 and estimates that 150 new locations will open by the end of 2022. According to Aldi CEO, Jason Hart, "We've always been growing steadily, but more recently we've accelerated our growth plans due to the rising demand for Aldi." The new stores are concentrated in the Southeast, and a new distribution center in Loxley, Alabama, supplies the new store locations.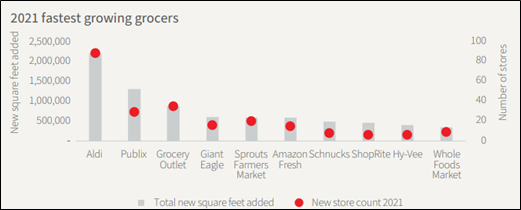 Other major grocers are also opening new stores as well as modernizing existing locations. For example, Publix opened 45 new supermarkets and remodeled an additional 132 in 2021. Publix's 2022 goal is to invest $2B on real estate – both in new locations and renovations. Food Lion increased its presence in the Southeast by acquiring 62 BI-LO/Harveys supermarkets. LIDL has invested more than $500 million since 2020 in 50 new supermarkets. Grocery Outlet has opened over a dozen stores in 2022, and plans to open a total of 28 by the end of the year with a focus on the East coast. Kroger, in an effort to reach more customers through e-commerce, opened three new fulfillment centers in 2022 to support distribution and is seeking to acquire Albertsons in a bid to compete with Walmart as the largest grocer in the United States by revenue.
Piggly Wiggy, on the other hand, is testing the viability of a completely digitalized store. The platform automates operations throughout the store to improve inventory management, merchandising, and labor. "Piggly Wiggly has been changing the industry since it launched its first store," says Mark McGowan, senior VP at C&S Wholesale Grocers Inc. "[This] will enable us to provide an even better shopper experience by leveraging the most innovative retail automation technology available."
Other grocers competing to capture new market share through expansion include Sprouts, Giant Eagle, Amazon Fresh, Shop Rite, Hy-Vee, Schnucks, and Whole Foods.
Supermarkets of the Future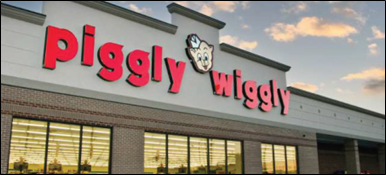 Grocers are constantly monitoring customer preferences and are keenly aware of the competition from other supermarkets. If a grocer cannot satisfy customer demands of products and prices, customers often have many substitutes just around the corner. According to McKinsey & Company, expect grocery tenants to be on the cutting edge of innovation in the near future.
Bottlenecks in the supply chain across the board have been a major headache for retailers over the last 18 months, and grocers were not immune. In some instances, shoppers have encountered empty shelves and extended out-of-stock issues for certain products, like baby formula. On other occasions, grocers were forced to limit customer purchase volume of an item due to limited availability. Supply chain issues, combined with inflation, has also resulted in food prices increasing between 9% and 10% in 2022 year-over-year, and estimates indicate this trend will continue in 2023 with an increase in prices of 2.5% to 3.5%. To address these frustrations and obstacles, and in an effort to drive prices down, grocers have made massive investments in supply chain automation and last mile distribution since COVID. Grocery chains also invested hundreds of millions of dollars in outsourced delivery labor and autonomous vehicles. Total supply chain investment will add an expected $20 billion of value to grocers within the next five years, according to McKinsey.
Another priority of supermarkets is integrating technology into the shopping experience as they realize e-commerce is here to stay. Grocers are using omnichannel strategies to capitalize on the different mediums of grocery advertising and purchasing, whether in-store or online. Parking spots designated for store pickup are becoming more and more prevalent, and subscription services for grocery delivery directly to the customer's door are now mainstream.
Supermarkets are also adapting to customer demands by offering plant based products, healthy, ready-made meals to go, and by expanding private brand products as customers increasingly take preference towards price and value. Additionally, some grocers are placing supplemental retail stores like pharmacies, banks, and coffee shops within the supermarket to drive in-store traffic and add value to customers by eliminating the need to make an additional stop at another store.
Investor Considerations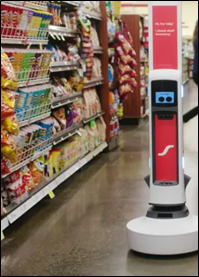 Many investors believe grocery-tenanted properties offer the best-in-class, risk-adjusted returns and will continue to be some of the most sought-after assets for years to come. "There are some justified questions on the future outlook of businesses that sell nonessential retail goods like clothing and electronics as many of them may be vulnerable to further digital disruption," says Anthony Grosso at First National Realty Partners. "[But] that doesn't seem to be the case for retailers that sell essential products like grocery stores."
However, grocery shoppers are becoming more particular with where they shop, how they shop, and the technologies they use to assist them. And while the value of grocery-tenanted properties is still rooted in the fundamentals of net operating income, lease term, demographics, and credit/guarantor, investors now need to consider the grocer's supply chains and approach to innovation in valuing the grocer's business. Forward-thinking grocers that leverage technology, invest in their supply chains, and adapt to meet future demands of customers will be well-positioned in the future.
If you would like to discuss the market or buy or sell grocery tenanted properties, you are invited to contact me at 404-876-1640 x 110.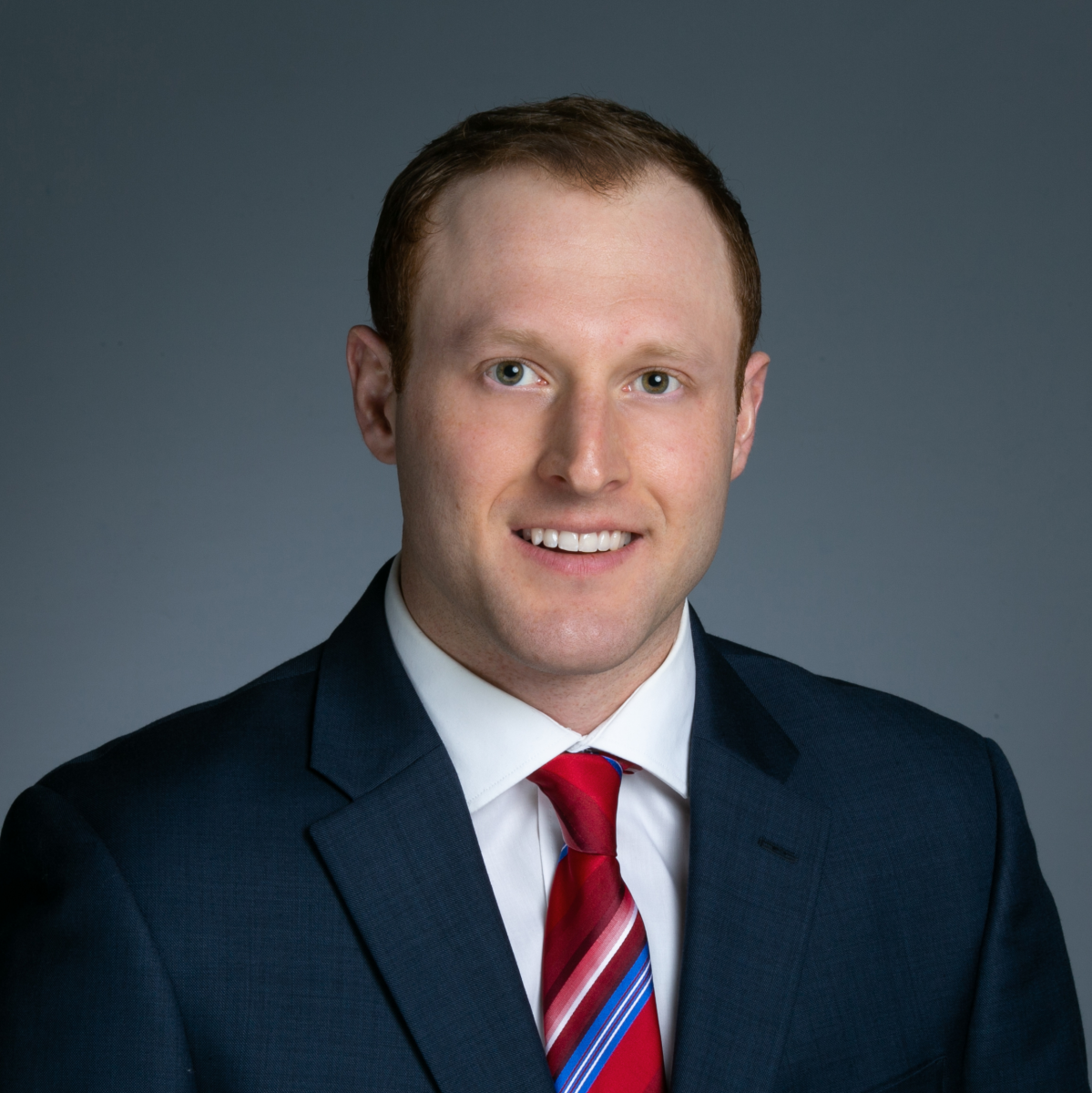 Ben Barrett
404-876-1640 x110
Ben is a commercial real estate broker specializing in net lease investment sales. Ben studies property values, investment strategies, and capital market trends to property advise clients.