Recently on America's Commercial Real Estate Show, "Frothy Market or Beginning of A Golden Age," I spoke with real estate leaders from PwC to determine what's really going on in the market. Specifically, my guests were Tim Bodner, Managing Director and Byron Carlock, Real Estate Practice Leader, both with PwC. My guests shared their view of the future of commercial real estate including the impact from tax reform, repatriation, deregulation, rising interest rates, and technology.
Economically speaking, fundamentals are solid. Carlock points out that 70 percent of our economy is driven by consumer expectations and confidence. Currently, the Consumer Confidence index is at its highest level since 2000. The Index now stands at 130.8 (1985=100), up from 124.3 in January.
313,000 jobs were added in February 2018, according to the U.S. Bureau of Labor Statistics. This is the highest one-month gain since July 2016, according to a REIS whitepaper.
In addition, the recently passed Tax Reform & Jobs Act was passed is considered by PwC to be positive for commercial real estate. Four positives of the act include:
The overall reduction in the rate to 21 percent.
The interest deductibility and the favorability to real estate from the exemption.
Carried interest provisions implementing a three-year holding period instead of one year in determining capital gains from a partnership interest providing services.
Maintaining the 1031 exchange.
In addition, employees will receive more "take home" pay and it's safe to say that a big piece of that will end up back in the economy through retail activity. For a comprehensive look at the implications of the tax reform, read Historic Change in Tax Reform - What to Expect on the Bull Realty blog.
Regarding rising interest rates, PwC expects small and steady interest rate increases. A reasonable expectation is quarterly 25 basis point bumps this year. While the rate increases could cause upward pressure on cap rate generally speaking, Carlock predicts that unallocated capital or "dry powder" will help keep the cap rates low. PwC says the amount of dry power is roughly estimated at $249 billion dollars.
"There's plenty of capital to do transactions at a time when the industry is remaking itself," said Carlock. In 2017, 263 private equity funds raised $109 billion dollars. In addition, although rates are going to move higher, it's important to remember that they are still low on a relative basis, so there remains a significant demand for real estate.
Spotlight on Retail
Despite all of the positive economic indicators, it seems like everyone is concerned about retail moving forward. But echoing themes of former Bull Realty blogs on the subject, retail isn't dead, it's just changing. Bodner points out to really look at the retail sector, you can't just generalize. In reality, there's diversity within the sector. In addition, he believes the activist investor community is going to drive transaction activity as it relates to retail-related businesses. Lastly, it's no secret that there's a general shift in how retail real estate is being used towards "experiential." No longer is retail just a place where you buy things, it's become where you go for an experience. A lot of the retail centers today are being repurposed to create more of an experience for their tenants and end-consumers.
PwC expects certain segments of retail will do very well, whereas other segments will need to be repurposed. Each year PwC and ULI release a report, Emerging Trends in Real Estate. The 2018 report states there is retail "overcapacity" in the U.S., relative to the rest of the world. "Nevertheless—and despite the obvious stresses that have drawn public attention—retail property is considered by interviewees to be relatively healthy, with abundant capital available to owners and investors."
With change comes opportunity. For retail, there are opportunities for big redevelopments. Carlock said we are already seeing developers taking chances on B & C malls to convert them into other uses.
Carlock heard Sam Zell say retail is not overdeveloped, it's under-demolished. "We've failed to redevelop [retail] into appropriate uses as it's become irrelevant and we have to be vigilant about making sure it's relevant," said Carlock.
Right now, the retailers that are relevant to people's needs are the assets succeeding. Whether it's convenience, a great website, easy e-commerce or a great visit to their store. And it's worth nothing, approximately 90 percent of sales are still transacted in bricks and mortar locations.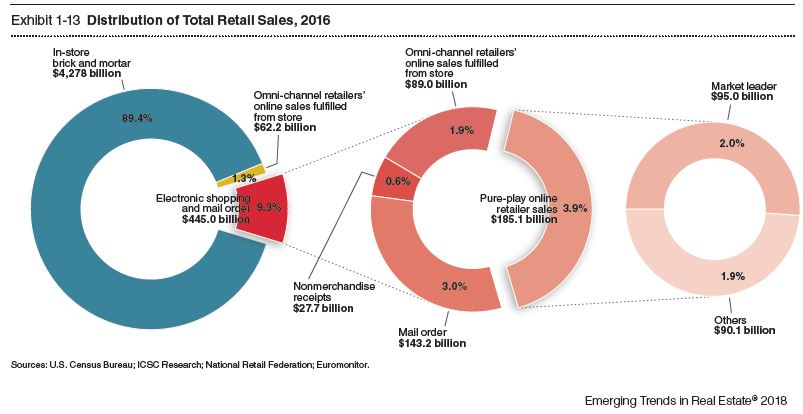 Also, consumer spending is really outpacing wage growth. Bodner says this trend is certainly a risk to the economy but the combination of job growth and the favorable impact of the tax act should keep consumer spending and confidence in check.
In the 12 months ending in July, average hourly earnings rose 2.5 percent—down slightly from 2.6 percent in 2016, but up from 2.3 percent in 2015 and 2.1 percent 2014, according to the Emerging Trends Report.
Advance estimates of U.S. retail and food services sales for February 2018, adjusted for seasonal variation and holiday and trading-day differences, but not for price changes, were $492 billion, a 4 percent increase from February 2017, according to the U.S. Census Bureau.
Spotlight on Office
Another commercial real estate sector that's been riding the recovery wave is office. And just like with retail, Carlock said "the biggest trend is the movement toward relevance" for office and even though the way people use office space is changing, supply/demand dynamics are still attractive, in part because of the discipline in the development community.
Carlock pointed out that 80 percent of our office stock was built in the 80s or earlier and we've under-invested in capital expenditure, or "CapEx," over the last 20 years. "There's a lot of work to be done on the existing office stock as a redevelopment opportunity as we respond to the changing demands."
Also, the new lease accounting standards become effective for public companies on January 1, 2019 and on January 1, 2020 for private companies. The new law requires lessees with leases exceeding one year move those leases to the balance sheet. For an in-depth look at the FASB Lease Accounting changes, please read this blog.
Carlock says the new FASB rules move real estate out of a footnote, up to the board room. Across all sectors and industries, companies are considering whether to own real estate in the long term.
Our economy is experiencing a transformation into greater levels of technology, like block chain and artificial intelligence. Carlock says developing a mobile, skilled workforce that is redeployed as we go through this transformation, along with ensuring we have enough skilled workers in the construction trades to build all this infrastructure, is the argument for what could be "an elongated recovery of golden age for the industry."
In short, 2018 should be a good year for commercial real estate. The cap rate is still good for sellers. Debt is still relatively cheap. "We've extended the cycle and it's still not overheated," concluded Carlock.