U.S. and Atlanta Market Update
One thing is certain for the office sector: this expansion doesn't look like the others. "Consistently low office rent growth" may be correlated with the "persistently low national inflation rate," according to REIS' Q3 2017 Office Trends report. The reason? Lower operating costs may be keeping businesses from raising prices.
The office sector has been experiencing muted rent growth for an extended period and the trend is especially noticeable relative to past cycles. Nationally, both the annual asking and effective rent growth were 1.5%, the lowest since 2011 and the third quarter in a row that the annual effective rent growth was below 2%, said REIS. In Q3, asking and effective rents both increased 0.3% to an average asking rent of $32.35/SF.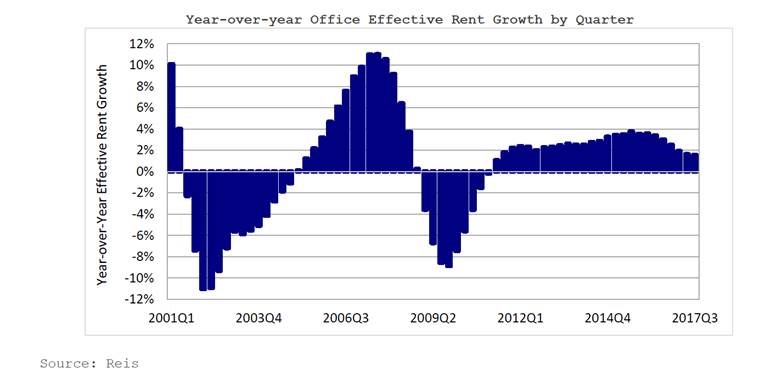 Another persistent factor unique to this expansion is the consistently high vacancy rate. The national office vacancy rate has moderated between 16.0% and 16.1% for the last seven quarters. One reason for this is office employment growth is lower than years past which means office demand has been slightly weaker.
However, net absorption has become more in line with construction. Net absorption was 5.4 million SF in Q3, (up from 4.8 million SF in Q2 2017 and 3.7 million SF a year ago in Q3 2016). Conversely, construction fell from previous quarters to 6.5 million SF, (down from 10.4 million SF in Q2 2017 and 8.1 million SF a year ago in Q3 2016).
Also, rent growth isn't necessarily tied exclusively to job growth. Half of the metros that were in the top 10 for annual effective growth were also in the top 10 for annual office employment growth (Charleston, Charlotte, Atlanta, Raleigh and Dallas), meaning that you don't necessarily have to have the most job growth to see the most rent growth and vice versa.
156,000 jobs were created in August and the unemployment rate was 4.4% according to Axiometrics. "Total nonfarm payroll employment was little changed in September (-33,000), after adding an average of 172,000 jobs per month over the prior 12 months," according to the U.S. Bureau of Labor Statistics. This is the first time in seven years that the U.S. economy has reported a monthly job loss due to a temporary disruption in hiring as a result of Hurricanes Irma and Harvey, reported Axiometrics.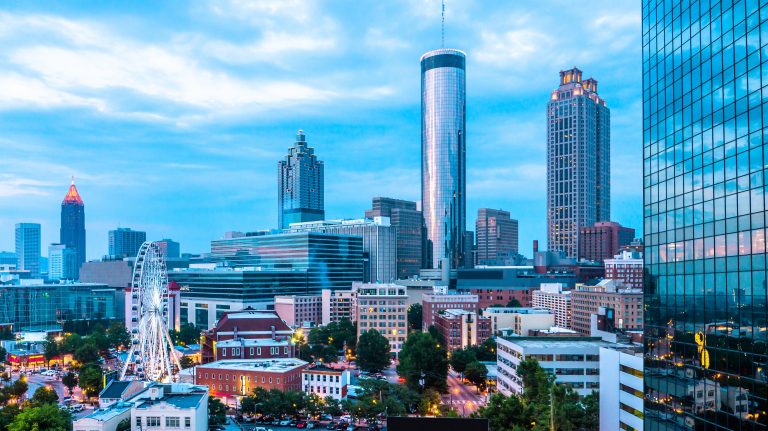 In Atlanta, we have job growth and rent growth. The metro has consistently appeared in the Top 5 markets for annual job gains and is currently Number 2 with 86,400 jobs gained over the last 12 months. But all good things must come to an end and Atlanta's job growth streak may be over. "While the Economic Forecasting Center at Georgia State University is predicting Metro Atlanta companies will add some 65,500 jobs this year, only 17,400 of those positions are considered premium, or jobs most likely located in an office, according to Atlanta Business Chronicle," reported BisNow. According to the same report, job growth in Atlanta is expected to significantly drop over the next three years, reported The Atlanta Business Chronicle.
Atlanta's annual asking and effective rent growth were each 3.3% for the office sector, according to REIS. (The metro is ranked 7th nationwide for both.) In Q3, effective rent growth was up 60 basis points to an average effective rent of $19.50. Vacancy declined 40 basis points year-over-year and 10 basis points in Q3 to 18.4%.
Atlanta is also known for its population growth. The 10-county Atlanta region added 78,300 new residents between April 2016 and April 2017, according to annual population estimates released by the Atlanta Regional Commission. CoStar calls Atlanta's recovery "above-average" in the latest Atlanta Office Market Analysis and Forecast report.
Nationally, REIS predicts "market conditions should not fall much further," and although they expect higher construction over the next six quarters, they also expect that occupancy and new completions should remain in line, meaning rent growth levels will probably stay the same.
Like the retail sector, societal shifts are affecting what were once predictable patterns. PwC calls "The 'Gen Z Effect' on retail and work space" one of the top trends for 2018: "Where millennials were all about collaborative, open workspaces, gen Z appears to want more structure, suggesting a return to offices (with doors) and more personal office space."
Essentially, we can no longer reference past cycles as clues for the future of the office sector, which is seemingly steady despite less-than-stellar fundamentals.
Bull Realty Research, Inc.