U.S. and Atlanta Market Update
The honeymoon phase may be over for multifamily, but the sector still has a pretty strong foundation. In the first quarter 2017, the vacancy rate increased in 39 of the 79 metros REIS tracks. The national vacancy rate increased 10 basis points from 4.2% at the end of 2016, to 4.3% at the end of Q1 2017.
U.S. net absorption was 23,957 units in the quarter, the lowest since 2010, according to REIS' Q1 2017 Apartment Trends report. There were 39,000 new completions in Q1 2017. This is the lowest level in two years, but the first quarter is typically low for new construction. In the Q4 2016 Apartment Trends report, REIS predicted that completions will climb back up to 205,800 units this year across the 79 metros they track and then will begin to fall rather significantly in 2018.
Rent growth isn't skyrocketing, as it was, but it is still largely positive. Only 23 markets saw a decline in effective rents. Effective rent growth was 0.3% in the first quarter and 3.1% year over year.
"While a number of metros are seeing higher vacancy rates and effective rent declines, the changes are not significant and reflect the boom in construction," said Barbara Denham, an Economist with REIS. The average U.S. apartment rent is $1,315/unit grew by 0.4% in Q1 and has increased 3.3% since Q1 2016.
Recently on The Commercial Real Estate Show, Eileen Marrinan, Director of Research with Grosvenor Americas, said multifamily is considered the least cyclical sector. And in fact, investors tend to gravitate towards apartments because they're almost viewed as counter-cyclical investments that are safer and more defensive when the economy slows down or goes into a downturn.
The sector is certainly impacted by job growth. Preliminary data from the Bureau of Labor Statistics shows that U.S. employers added more than 2.3 million jobs in the past 12 months (ending January 2017), growing the country's employment base 1.7%, reported MPF Research. 235,000 jobs were added in February and the unemployment rate was 4.7%, according to the U.S. Bureau of Labor Statistics. "This continued positive job growth should maintain a steady demand for new apartments throughout 2017," said Denham.
Recently, as a guest on The Commercial Real Estate Show, Denham pointed out, "If interest rates raise mortgage rates, then it will be harder for homeowners to buy a home. And again, the demand for apartments will still stay strong. The nuance between the apartment market and that homeownership market is really what we'll be looking at very closely going forward," she said.
In an article for The National Real Estate Investor, comparing the ratio of Case-Shiller index to REIS rents, trend lines show that home and condo prices are actually rising at a faster rate than apartment rents. "One of the main drivers of escalating home prices is a lack of supply of homes on the market. In contrast, an excess supply of new apartments under construction is easing pressure on rent growth."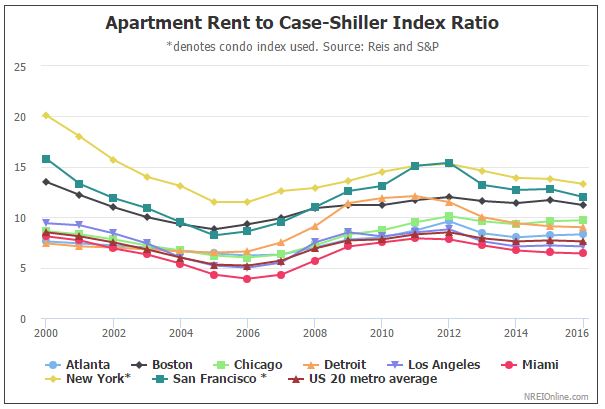 "Nationally, the current apartment development cycle is likely to peak in 2017, when the nation's top 100 apartment markets are scheduled to receive more than 360,000 new units. From there, U.S. completion volumes are likely to ease. But metro to metro, the supply story varies," reported MPF Research.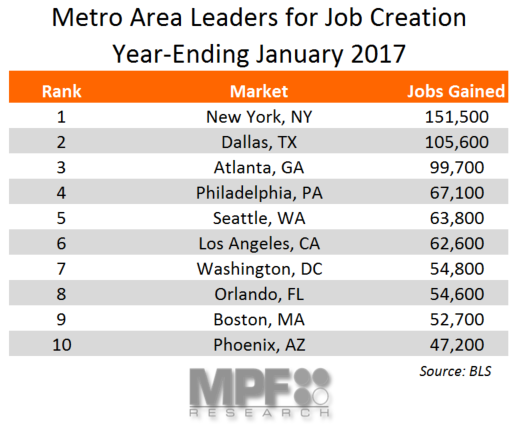 Speaking of metros, multifamily in Atlanta is off with a bang in 2017. Atlanta was Number 5 for annual effective rent growth, (6.4%), and Number 6 for effective rent growth in Q1 2017, at 1.1% to an average effective rent of $1,010, according to REIS.
Atlanta is Number 3 nationwide for jobs gained in the year-ending January 2017, with 99,700 jobs gained in the past 12 months.
The National Real Estate Investor also references Atlanta. The city may have been hard hit during the recession and a little slower to recover than other metros, but is now bouncing back in a big way, thanks to the impressive job growth.
Vacancy in Atlanta increased by 40 basis points year-over-year, to 4.4% at the end of Q1.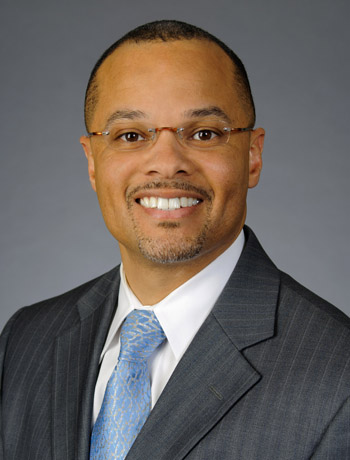 "Multifamily is still the top darling of the asset classes. Atlanta remains one of the top markets for multifamily largely due its continued job growth year over year which is expected to reach 100,000 new job in 2017 and rent growth increasing 6.4%," said Scott Spalding, V.P. of The Multifamily Group at Bull Realty.
There's no trouble in paradise. Multifamily is still America's sweetheart sector.